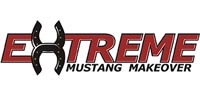 Local Horse Trainer Selected for Extreme Mustang Makeover
Georgetown, Texas – Monica O. Krause of Grover Beach, California has been selected to compete in the Extreme Mustang Makeover held May 15-16, 2015, at the George Ingalls Equestrian Event Center in Norco, CA. Trainers will have approximately 100 days to gentle a randomly assigned wild horse they will pick up in November and compete for an estimated purse of $20,000 in prize money as well as a custom-made Gist belt buckle.
Monica O. Krause, 34, is a Professional Photographer/Graphics Designer and Horse & Equestrian Trainer. She is exceptionally good at both technology and working with animals.
Monica is also in the process of developing an online education course teaching horsemanship. She starts her new students with important homework studies preparing their minds to better perform the physical tasks during practice. Krause has adopted one mustang and has worked with a lot of horses who have been difficult or abused and had success with them coming around. With her 25 years of equine handling experience, she feels plenty ready and exihlerated to take on the Extreme Mustang Makeover challenge.
The Mustangs competing in the Extreme Mustang Makeover challenge are mares, and the horses, which were virtually untouched prior to the February pick-up, will compete in Norco in May. The trainers and Mustangs will compete in a series of classes that will showcase their new skills. The horses will compete in handling and conditioning, a pattern class and a combined leading and riding class, and an outdoor trail challenge through the city of Norco. The top-10 competitors will then compete in the freestyle finals. Tickets and event information about the Norco Extreme Mustang Makeover are available at http://extrememustangmakeover.com/norco-extreme-mustang-makeover/.
Mustangs competing in the Extreme Mustang Makeover are available for adoption through an auction on May 16. Adoption fees will be set by competitive bid. To qualify to adopt, individuals must be at least 18 with no record of animal abuse. In addition, adopters must have suitable facilities and can adopt no more than four animals. Adoption applications will be approved on site by the Bureau of Land Management during the event.
The purpose of the competition is to showcase the beauty, versatility and trainability of these rugged horses that roam freely on public lands throughout the West, where they are protected by the BLM under federal law. The BLM periodically removes excess animals from the range to ensure herd health and protect rangeland resources. Thousands of the removed animals are then made available each year to the public for adoption. More than 5,000 Mustangs have been adopted through Mustang Heritage Foundation events and programs since 2007.
The Extreme Mustang Makeovers are made possible through our partnership with the Bureau of Land Management and the generosity of our sponsors Ram Trucks, Western Horseman, Vetericyn, Gist Silversmiths, Martin Saddlery and Classic Equine, Cowboy Magic, Roper Apparel, RIDE TV and Smith Brothers.

About the Mustang Heritage Foundation
The mission of the Mustang Heritage Foundation and the goal of the Extreme Mustang Makeover events are to increase the adoption of Mustangs across the country. The Mustang Heritage Foundation created the Extreme Mustang Makeover events to showcase the recognized value of Mustangs through a national training competition. For more information, visit http://www.mustangheritagefoundation.org
About the Bureau of Land Management
The BLM manages more than 245 million acres of public land, the most of any Federal agency. This land, known as the National System of Public Lands, is primarily located in 12 Western states, including Alaska. The BLM also administers 700 million acres of sub-surface mineral estate throughout the nation. The BLM's mission is to manage and conserve the public lands for the use and enjoyment of present and future generations under our mandate of multiple-use and sustained yield. In fiscal year 2013, the BLM generated $4.7 billion in receipts from public lands. Visit blm.gov or call 866-4MUSTANGS for more information.
FOR MORE INFORMATION: Mustang Heritage Foundation
Kyla Hogan
P.O. Box 979
Georgetown, Texas 78627
(512) 869-3225
(512) 869-3229 fax