Monica O. Krause's Extreme Mustang Makeover Mare 2015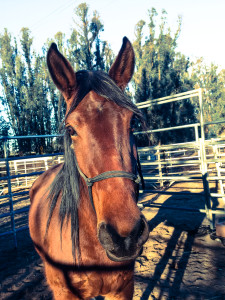 NO NAME – CONTEST
Hello, I have no name yet until February 14, 2015. So far many of you offered me many great names and only a few of them made the top 3 finals. You may vote on your favorite name for me on our Facebook page.
Thank you everyone who put in names for me. The name entries below had the most votes:
-Karizma (8 Votes)
-Mustang "Sally" (4 Votes)
-Dutches (2 Votes)
-Joy (2 Votes)
-EMM E. Lou (2 Votes)
-Cinderella (2 Votes)
-Valentine (2 Votes)
-Shelby (2 Votes)
-Rise n Shine (1 Vote)
-Uma Valentine (1 Vote)
-Baylee (1 Vote)
Final Pole.
The top three finalists are: Karizma, Mustang "Sally", and Joy.
Since there were so many in 3rd place with 2 votes each, we broke the tie by randomly drawing one name out of a can. Joy was the name that was drawn for 3rd place. Now it is time to make your final votes for the one and only name for this lovely Extreme Mustang Makeover mare.
The pole will end on Valentine's day, February 14, 2015. Cast your votes!
MY BACKGROUND
My number is 5994 and I am a bay mare captured from Fish Lake Valley, Nevada on August 21, 2013. They say I am about 5 years old and gave me the birth date of January 1, 2010.
JOURNEY
My trainer Monica O. Krause will be teaching me many fun things to do with humans. She is also recording everything she does with me with her GoPro cameras; she plans on making education courses so that others can train Mustang horses like me. On May 15-16 she will bring me to Norco, CA to show off what I learned. There you will be able to fall in love, adopt me and take me home.
STAY TUNED
I look forward to the many adventures. Stay tuned to my weekly progress 🙂