Welcome! Thank you for coming.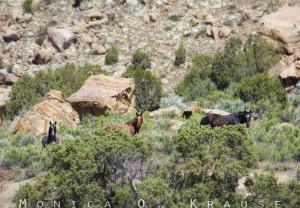 We Believe
We are a growing group of people who appreciate the mustang horses. We believe that it would be beneficial that the mustangs remain in the wild, however, due to the diligent work of the BLM (Bureau of Land Management), there are over 50,000 wild horses in holding facilities across the United States of America. There is only one real way to rescue these horses from the over crowded population of the BLM holding corrals… Which is to adopt them out to loving homes. But who wants an untrained horse!?
Problem
It sounds like a nice idea to find these beautiful and amazing wild horses loving homes, but the fact is that no one wants to put in the time and commitment to train one themselves.
Unfortunately, only about 2,100 of these horses get adopted out per year. Programs by the Mustang Heritage Foundation like the Extreme Mustang Makeover and TIP (Trainer Incentive Program) have been responsible for approximately 750 of those adoptions per year. Which is 36% of the total adoptions per year. These facts show that the force of people uniting together can really make a difference.
Solution
We must help ourselves to help others. We must commit to putting in the time and dedication into our own development as horsemen and woman, so that we can as individuals help give these much deserving trapped equines their freedom back, by liberating them in how to cope in the world of humans. We must be their bridge and forever home.
Join us in our mission. We believe…in bettering ourselves to help others. We understand that the mustangs need us to help them become liberated from their entrapment by the government. We commit to joining together to help one another on this journey to creating homes for the mustangs. We believe in the power of one… Becoming one unit, by the commitment of one individual, that can change at least one life.